So you want to bump up your prayer time, right? You want to get consistent with praying & daily Bible reading and get yourself into a good routine. Want to know the secret to pulling it off?
Sweatpants.
Not a sweatpants kinda guy or gal? No sweat. (ha ha) the point is...
Get comfortable.
You'll never find me having a long talk with God wearing high heals. Unless I'm stuck in a situation where I can't take them off!
My favorite prayer shoes…Sockwa's. They're ugly but comfy. Because if I'm comfortable, I'll stick around longer, I'll be able to focus better, and I'll have a more enjoyable experience.
My talk with God will be more appealing. I know, you're thinking, "Is she that carnal?" Yes, I am. I'm real. And if I can't get comfortable, I'm going to spend less time in my prayer zone.
And here's a little confession: I don't even kneel!
If I did, I again, wouldn't spend as much time praying - because my knees would be hurting before I'm done. If I'm comfortable, I'll pray longer.
So look, the idea here is to get over the idea of having a stuffy conversation with the Divine. I'm sure God would like for you to kick back, relax, and enjoy the moment with him.
And while we're at it, let's talk about Bible reading and how we can make that easier.
If you're tired of daily Bible reading plans that land you in guilt city like I was, move on over to a no-pressure plan that will refresh your soul. 
When I was in college I bought a Chronological Daily Bible. Along with others I thought it would be an great accomplishment to read the Bible through in one year. I started countless other "Read the Bible in a Year" plans but never finished. Maybe you've done this too.
This time though, I determined, "I'm going to make this work." After all, the Daily Bible I bought broke the reading into segments so I could finish it within a year – IF I was faithful to read everyday. And when I say read everyday, I mean read a BIG honking chunk everyday. But sadly here's what happened…
Problems With My Daily Bible Reading Plan That You May Have Experienced Too:
It became a chore rather than something I enjoyed. I no longer looked forward to my time in God's Word. It had become a rountine rather than a refreshing that I desperately needed.
My goal became reading to finish instead of reading to be replenished. Reading for the sake of completing rather than reading for the sake of understanding. Reading for accomplishment instead of reading for communion.
When I got behind, it was tough to catch up. Two days trying to catch up was even harder, three days – forget it. (That's when most people give up.)
My conclusion: What 's the big deal about reading the entire Bible within a year anyway? Is a year the magic number that will usher you into a bigger blessing of some sort?
So here I am, a student of the Word, who has spent over 20 years in full time ministry, have a degree in pastoral theology, have taught thousands and thousands of people from the Bible, yet still I have NEVER read the entire Bible through in one year's time. I have read the Bible from cover to cover, yes, but not crammed within the time frame of one year.
So shoot me!
Does that make me any less serious about studying God's word? No, that makes me smarter.
No-Pressure Reading…
I will not bow to the customs and traditions and whims of men and women. I will enjoy every time I read my Bible because I do so with no pressure. It's just me and God. Slowing down and giving him time to speak. Slowing down and allowing myself time to hear.
There are days I read multiple chapters depending on:
How much time I have.
What I am studying (If I am working or researching for a teaching or a writing project).
What I feel God is leading me to do that day.
There are days I read only a verse or two depending on:
How much time I have.
What God is trying to show me in what I just read.
When I begin praying that scripture over my life and over the lives of my loved ones and camp out there because I am so moved by it.
Know what kind of Bible reading blesses me and brings me freedom from pressure?
Taking It Slow.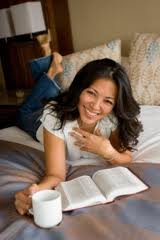 When I take it slow and enjoy the tasty morsels God's throwing into my mouth I've hit the sweet spot. Sometimes I read one verse and stop. I chew on that verse, thinking about it, muling it over in my mind all day long. As I do, God speaks multiple things to me about one little verse. It's like swallowing a sip of coffee with multiple complexities. I savor the flavors being uncovered at every level.
Biting Off More Than You Can Chew
If you take too big of a chunk of scripture you can't get as much out of it. It's like putting too much food in your mouth and being forced to chew fast and swallow. Not as enjoyable as when you have time to savor every bite.
So Here's a No-Pressure Bible Reading Plan:
Take just one bite of scripture at a time.
Don't bite off more than you can chew.
Give the scripture time to digest.
Enjoy it!
So give yourself a fresh new Bible reading plan without guilt or pressure. It will taste better and will do your spiritual body good! Be free. Taste and see that The Lord is good!
If you've enjoyed this post, Fed Up With Daily Bible Reading Plans That Land You in Guilt City, you might enjoy this post: "How Just One Minute in the Word Can Make a Huge Difference in Your Day". And don't forget to sign up for your free subscription to this blog, you'll receive fresh new posts delivered right to your inbox without any effort on your part! Subscribe here (and you'll get a nifty little gift for doing so!).